EINS Fingerprint System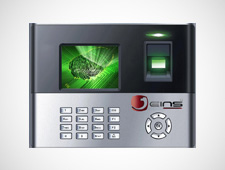 A full fledge standalone fingerprint device best suited for application like Time & Attendance as well as Access Control System. A Low price with good performance, designed especially in the purpose of popularizing the fingerprint products. With large user & transaction storage capacity, this Networkable System brings you the best value with unmatched performance.
Hand Geometry System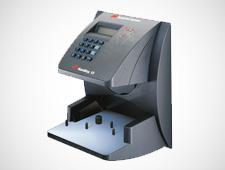 Now brings the accuracy and convenience of biometric technology easily within reach of any time and attendance applications. With a Hand Geometry System, employees can clock-in for work without the use of cards. Your business won't have to create or administer cards, and users' credentials can't get lost, stolen or duplicated. Since the user is identified by hand geometry – the unique size and shape of his or her hand – costly "buddy punching" is eliminated. This means that one employee can't punch in for the other.
Iris Recognition System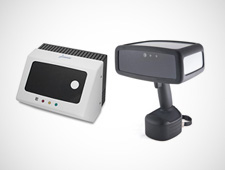 Award-winning Iris on the Move® (IOM) biometric systems combine the unprecedented accuracy of iris recognition with a quick, convenient solution for secure access control & identity authentication. Unlike other biometric readers that require users to stop or to position their eyes close to a camera, IOM products allow people to simply glance and go. With a complete line of easy-to-use, indoor/outdoor biometric enrollment and recognition products. IOM systems perform iris recognition effortlessly at a distance and on the move in all lighting conditions.
Face Recognition System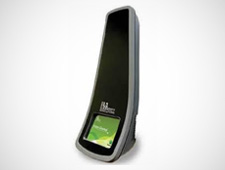 The Face Recognition System provides lightning-speed, hands-free access to offices and restricted areas. By analyzing the three-dimensional structure of the user's face, it achieves extremely accurate matching while ensuring high throughput. Enhanced accuracy enables low False Acceptance Rate while maintaining high throughput and productivity. With Face Recognition System, access control is highly secure and as simple as a quick glance!
Finger Vein Recognition System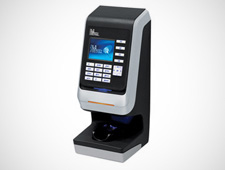 The FingerVein Recognition System is a full featured device utilizing industry leading finger vein technology and is built on the multi-biometric platform. The device unleashes a combination of power, usability and design to address Access Control and Time & Attendance requirements of any size anywhere around the world. Save time and drive down the cost of ownership with a communication-ready connected smart device, containing new installation and maintenance capabilities.
HID Readers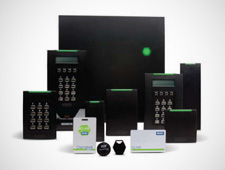 Designed to enhance the security, convenience and aesthetics of any installation, HID reader technology is the global technology of choice for accuracy, compatibility, technological innovation & responsiveness. HID secure contactless and contact readers are used in a limitless variety of applications : facility access control, mobile payment devices, computer network data security, medical record management, employee time and attendance, border control and many more. HID Global reader solutions, guaranteed compatible with HID cards, tokens, inlays and prelaminates, will fit any need for secure technology readers and devices.
For more information or Live Demo, Please click here